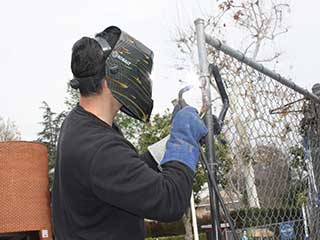 Our team at Garage Door Repair El Cajon has built up a well-deserved reputation over the years for fixing automatic gates as well as garage doors. We are detail-oriented when it comes to our work and aim to deliver quality at all times.
Services Tailored To Your Needs
We accept the fact that no two homes will have the same requirements, which is why we make an effort to be flexible in our approach to troubleshooting and resolving malfunctions.
Gate Not Responding
If your gate has stopped functioning properly, the most sensible thing is to contact us rather than attempt to resolve the problem yourself. These automatic systems can be fairly delicate - you don't want to risk further damage. There could be an issue with the automatic opener, a programming issue, or worn rollers. Our technicians will be able to diagnose the problem and get back to you - we have experience with a wide variety of systems and feel confident we'll be able to get your gate working like new again.
Gate Maintenance Services
The best strategy is always to try and keep things working well. We provide a range of maintenance services, from adjusting loose components in your system to lubricating moving parts and performing safety tests. Regular servicing appointments represent the best way to keep your system running for longer and by staving off more significant repair jobs, you'll be saving money in the long run.
Wrought Iron Gates
We're not afraid of handling unusual designs or intricate projects. For example, some of our clients have wrought installations that require special cleaning and setting up. We will ensure that these iron gates remain strong and that they'll stay functional even after exposure to the harsh elements.
If you're struggling with an automatic gate breakdown or another issue, just contact our multi-talented repair technicians today - we like what we do and look forward to helping you!
Our team can also take care of:

Doorking Gate Intercoms

Multicode Remote

Swing Gate Operator

Electric Gate Repair