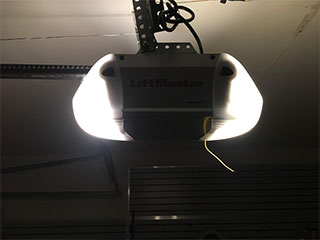 The opener is comprised of electrical and mechanical components including a power unit, the motor and safety sensors. Consequently, many things can go wrong, and often only an experienced professional can detect the cause of the problem.
What Can Go Wrong?
Electrical problems with the motor unit are common – issues like a transformer that failed due to a power surge, a blown fuse on the circuit board, or burnt wires – can all cause the opener to malfunction. Similarly, the main motor gear can wear out occasionally, the belt or chain drive can tear or break, and even the photo eye sensors can become misaligned or otherwise impaired. Any of these issues are usually difficult to identify by most homeowners and will require an experienced professional to repair.
What Can Be Fixed?
In most cases, once the source of the difficulty is identified, using the right tools and in-depth knowledge of garage door openers, the problem can be fixed at a low cost, thus avoiding the expense of complete replacement. Keeping in mind that prevention is always better, regular maintenance by a professional will often prevent the need for costly repairs. This type of service includes a thorough examination of all the unit's different parts, lubrication of the chain or screw drive system (if either one exists) and testing and realignment of the necessary parts like the safety eyes.
Deciding To Replace The Unit
Although openers are usually expected to last ten to fifteen years, many older models have been known to last up to 25 years, with proper maintenance. Once problems start to occur too often, the cost of repairs can surpass what a new opener model may cost. In this case you will know that it is time to replace the existing unit. A new model will most likely have features that can greatly enhance a lot of aspects of your home, including security and safety. Not to mention, things like smartphone connectivity, which many new models boast, can significantly improve your daily routine.
Our Experts Are at Your Service
If you decide that it is time for a replacement, call our team at Garage Door Repair El Cajon, CA to receive honest and affordable assistance. We will be glad to explain the options to you and to carry out any repairs or maintenance that you require.

Need more? We also provide:

Part Replacement & Lubrication

New Opener Remote Controls

Garage Door Cable Replacement

Overhead Door Installation