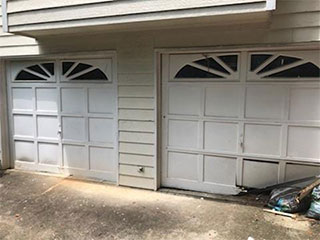 It can be very difficult to repair a garage door when some part of it breaks down. Apart from the fact that the complexity of the mechanism requires professional training and experience to handle, there is a lot of tension involved, which means the potential for injury is very high if you don't know exactly what you're doing. That's why you should always leave repairs to our expert technicians and avoid trying to DIY.
Professional Motor Repair
Your garage door opener is the device that controls and powers the automatic movement of the panels. When it malfunctions, your door may be inoperable, at least not automatically. Because this device consists of both mechanical and electrical components, the range of issues it can experience is quite extensive. Whether it's a matter of fixing a problem with the drive system, replacing a broken motor gear or troubleshooting the circuit board, our technicians will be able to assist you. We stay up to date with the latest industry trends in order to remain on top of our game and to know how to handle any problem as quickly and safely as possible.
Broken Spring Repair
One of the most common issues that garage door owners experience is a ring related problem. This can be something relatively simpler, like tension adjustment, or more complex, like a complete replacement. Whatever the case may be, mishandling these units can result in more damage to the system, and potentially serious bodily harm. Leave spring replacement and adjustment to our experts and don't risk getting hurt by these hardworking parts.
Common Hardware Problems
Your door may experience all sorts of issues, from bent tracks that prevent the rollers from moving to damaged panels that keep the door from closing properly. Whatever the issue, our professional technicians at Garage Door Repair El Cajon, will be able to help. Our team has the experience and the skills to safely fix anything. Call us today for emergency repairs or to schedule a service visit.
We also offer the following:

Roll up Garage Door Maintenance

LiftMaster Garage Door Opener Repairs

Galvanized Torsion Spring Replacement

Emergency Garage Door Services