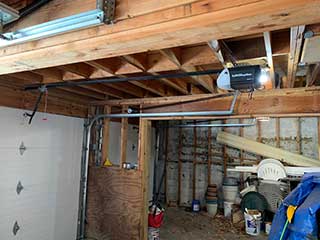 The best approach to garage door repair is to need it as seldom as possible, and the key to preventing these breakdowns is professional maintenance. It is recommended that an automatic overhead door be examined and tuned up by a professional at least once every six to twelve months. Fortunately, our team can do exactly that.
Springs And Belts
The moving parts that store and release the mechanical energy needed to move your garage door are at the highest risk of damage. To keep them in good shape, our team will inspect your springs for any sign of fraying or twisting, and apply a fresh coat of lubricant to reduce the stress being placed on them.
Tracks And Rollers
In addition to the wear and tear of daily use, these components are vulnerable to outside conditions such as weather and dust. They require thorough cleaning, and any part of the tracks that's starting to warp needs to be put back into shape. Rollers, depending on whether they're plastic or metal, should also be replaced if you notice significant wear.
Watch The Sensors
Safety sensors are very sensitive machines - even a little dirt or water under the lenses or a slight misalignment in their angle can create problems. Dangerous blind spots, or frustrating and security-threatening false positives, are both among the possible negative costs associated with a bad sensor connection. We'll check the wiring, lenses, positioning of your sensors, and run repeated tests to ensure their detection range lines up with your garage door.
And Everything Else
Garage doors can suffer electrical problems, opener failure and software malfunctions in any 'smart' system you have installed. Our technicians are familiar with the components from a wide range of manufacturers, and know how to look for and diagnose problems in all sorts of garage door setups and models. Just let our experts take a look!
Call Us Today
Don't wait for a problem. Call us today to set up a maintenance appointment at your soonest convenience.
Give our team a call if you need help with:

Garage Door Safety Inspections

Opener Clicker Repair

Oil Tempered Torsion Springs

Track Replacement & Repair