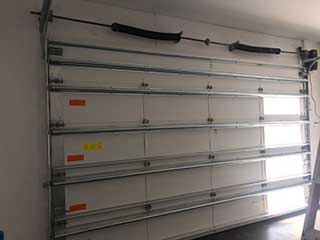 Most garage doors in the USA use a set of springs to keep it working smoothly. Torsion springs are needed to let the door open safely, and extension springs prevent it from slamming down when it shuts. However, these crucial components are liable to wear out over time, and can cause significant problems when they reach the end of their service life.
What Happens When Springs Wear Out?
At best, a broken spring will prevent you from using your door. Without the torsion spring, the opener won't be able to lift the door - frustrating if you're late for work, but not dangerous. However, if the spring breaks while the door is moving, this can prove catastrophic. The door may simply slam shut on whatever's underneath it, and when the typical garage door weighs more than 150 pounds, this can cause a lot of damage!
When Will They Fail?
There are many factors likely to contribute to spring failure, but there's no set and universal limit for when they'll break. Generally speaking, you can expect to get between 3,000 to 7,000 cycles from a spring - high quality springs and regular maintenance will get you closer to the high end of this. If your door is in constant use this could be as little as 3 years, but you may find your springs lasting for more than a decade without a problem.
When Should I Replace Them?
Carefully inspect your springs on a regular basis for any signs of visible damage. You can also check to see if they're weakening by opening the door halfway and disconnecting the opener. The door should remain reasonably still, but if the springs have weakened, then it will fall towards the floor. At this point, you should contact our technicians to arrange a spring adjustment or replacement.
Fixing Your Failing Springs
If you need an emergency replacement for a broken set of springs, or if you think yours might be wearing out, we're ready to help you. Get in touch with the team at Garage Door Repair El Cajon today to see what we can do to help you.
Count on us when it comes to:

Garage Door Tune Up Services

Garage Door Remote Clickers

Extension Spring Adjustment

Broken Cable Replacement